A new petition to Tamworth Regional Council is asking for a footpath to be constructed alongside Moore Creek Road to address concerns the area is dangerous for both drivers and pedestrians, and particularly elderly who use mobility scooters.
The petition calls for a footpath from William Cowper Campus of Calrossy along Moore Creek Road to join the existing footpath in front of McCarthy Catholic College on Tribe Street, a distance of approximately 1.7 kilometres.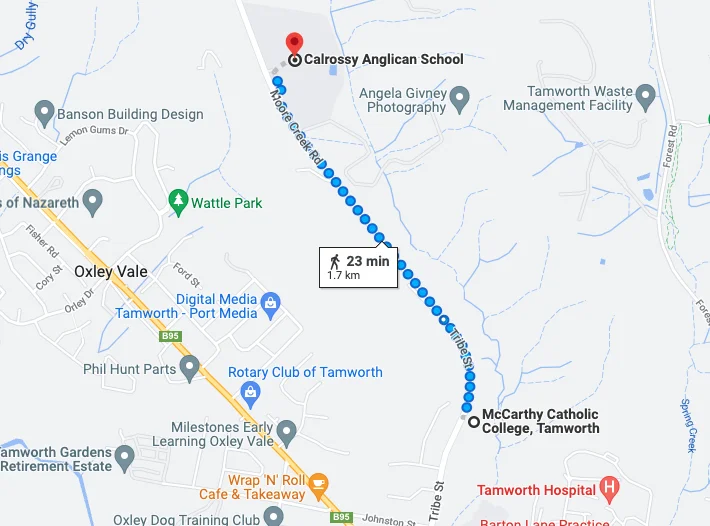 The rapidly growing residential estates on the northern side of Tamworth have made Moore Creek Road very busy, and without a footpath pedestrians – including many school children – and elderly using mobility scooters are forced onto the busy road, creating a hazard for drivers as well as putting themselves in danger. It is often not possible to walk beside the road due to the long grass infrequently slashed by Council, and there is no shoulder of the road for cyclists or scooters to use.
Local resident Emma Rust, who started the petition on Change.Org, said initially the concern was people with mobility scooters, but others have added more reasons to get a footpath alongside the road.
"Initially the main concern was the mobility scooters, as they have to use the road in order to get down to the shops to do their groceries and shopping. They do not have any other way of getting down there so this is their only option."
"One of the gentlemen who owns a scooter said that he had nearly been run off the road by a motorist," Ms Rust said.
The lack of footpath also brought up concerns from local parents whose children attend either Calrossy or McCarthy Catholic College.
"It is a very busy road, and no safe area for kids to walk to school or conduct school activities."
"Likewise for children who live in the housing estates but go to McCarthy Catholic College and want to walk to school, their parents do not allow them simply because it is too dangerous," she said.
Residents told 7 News they have been writing to the Tamworth Regional Council about the issue for two years.
Ms Rust said a wider cycle way would be an even better than an ordinary footpath, given the road is also highly utilised by cyclists.
"Residents have said to me that with the addition of a cycleway and or footpath they could walk into town and back to do their daily exercise."
Some on social media had been critical of the petition, saying that many areas of Tamworth do not have footpaths, and the Moore Creek Road users should 'get in line'. Ms Rust encouraged them to also start a petition and get into contact with the council to advocate for their areas.
The lack of footpaths is frequently raised as an issue for residents across the region. The NSW Department of Planning and Environment was sharply criticised for failing to include the need for footpaths, cycleways and other non-car transport in the New England North West Regional Plan 2041 published last year.
The link to the petition is https://www.change.org/p/footpath-construction-along-moore-creek-road
---
Have something to say about this story? Submit your own opinion piece, or quick word, to The Net.