After 26 years with BEST Employment, including the last 13 years as CEO, Penny Alliston-Hall has announced she will be retiring in September 2023, handing over the reins of BEST as she seeks new adventures with her personal passions.
Penny is one of the founding members of the BEST brand, and during her time she has endured many contract wins, shifts, and company diversifications that has built the BEST brand into the employment and community services powerhouse it remains today.
"I am very much looking forward to retirement, overall, in my entire working life, I have worked full-time for 44 years, so it is time to stop and smell the roses." said Penny Alliston-Hall, Chief Executive Officer BEST Employment.
"Leading the BEST family has been an incredible honour and I feel privileged for the opportunities I have been given and the impressive results we have delivered to our communities."
"We've gone from mainstream employment services to disability employment services, but we have also diversified into a range of other programs and other contracts including the NDIS, community services, our BEST Nursery, BEST Community Shed, and our BEST Food Garden,"
"Our diversification has been quite extraordinary."
The BEST brand has grown to include BEST Employment, BEST Harvest Trail Services, BEST Community Connections, BEST Community Services, BEST Nursery, BEST Community Shed and the BEST Food Garden, and has proven its adaptability to rise to a challenge and thrive under strong leadership.
"I could not have ever envisioned 26 years ago that we would be where we are today, and I am so proud to have been a part of the strong legacy behind the BEST brand and I am excited to hand it on for an exciting future." said Penny.
"I believe I am leaving BEST with an amazing culture, I have strived at all times to make our culture my number one commitment."
"I believe in a culture of support and encouragement where people want to come to work, and a culture where we are a family and it's not just a workplace, but a place people feel proud to be part of."
In a long list of professional achievements, Penny highlights an award that remains hanging pride of place in her office, forever a memory of her hard work recognised externally.
"In 2001, winning the NSW Business Women of the Year award as a representative of BEST and then going on to the National Finals – they were some of the proudest moments of my career." said Penny.
"Being initially interviewed on a panel with my style idol, Carla Zampatti, that just floored me and made me so very chuffed."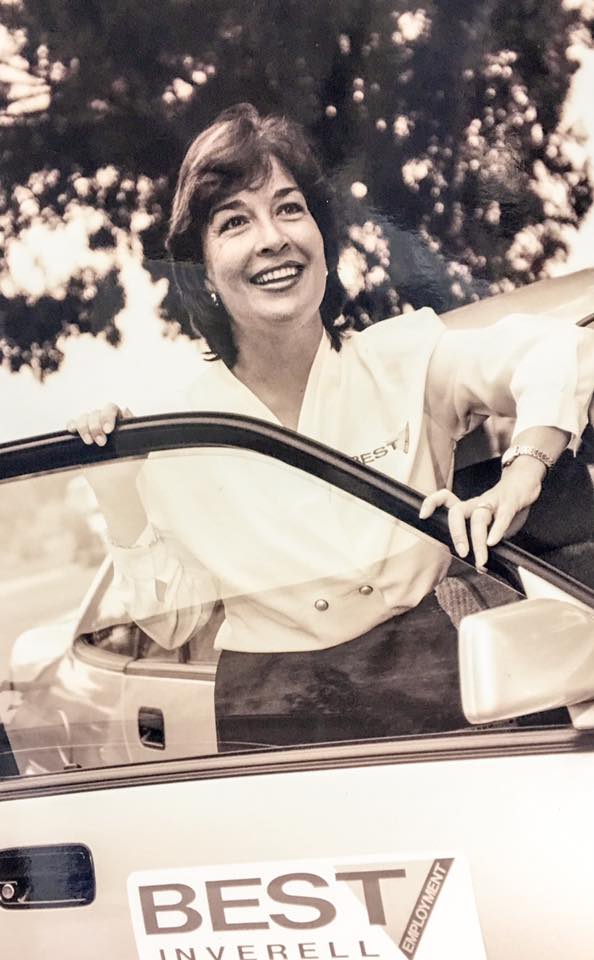 But Penny's success, is not her success alone, as behind every strong woman is a network of support, family, and friends, pushing, guiding, and listening through all endeavors of the job.
"Without my husband, Patrick, I could not have done what I have done for so long." said Penny.
"My husband has been the most amazing supporter of me the whole time I have been with BEST, he has always told me I can do anything. He has truly been the wind beneath my wings. At work we call our people BESTies, and Patrick has always been a BESTie through and through with everyone."
"Patty is my rock and retirement is looking all the better knowing we get to continue life's journey together in our forever coastal home."
Penny is a proud mother of two to Cassie and Tyler, who she raised with Patrick and with support from their Dad, John, while building her career with BEST, a loving and grateful stepmother and mother-in-law to Anna, Tyler's wife, Ben and his partner Julie, and Tim and his wife Emma and a doting grandmother to her grandchildren, Noah, Tilly, Maggie, Violet and their newest little Zion.
"I have an extremely supportive family who I have loved watching grow up, and now as grandparents, I am really looking forward to joining that next journey and being there for them." said Penny.
Penny is leaving being the BEST brand with an exciting new three-year strategic plan and endless opportunities under the guidance of BEST Employment's newly appointed CEO, Anna Watt, who will commence her new role in October.
Penny's final day with be September 23rd.
"Thank you to everyone who has crossed my path throughout my career with BEST, each and every one of you has left a lasting impression and I look forward to reminiscing on my memories whilst staring out at the ocean during my retirement."
Like what you're reading? Support the New England Times to keep providing hyper-local news, for the New England and by the New England, pay wall free. Make a small contribution today.