A new local Graphic Design studio is developing in Armidale. Here's all you need to know about The Blue Stamp Studio:
From the creative halls of the National Art School and Billy Blue College of Design comes local graphic designer, artist and printmaker, Jessica Serov. Born in Sydney and raised in Armidale, Jessica brings over eight years of experience and a diverse, multi-disciplinary perspective to any project.
Skilled in the use of both digital and analogue mediums, Jessica creates visual intrigue and applies a unique style to creative communication and messaging. Now back on her home turf, Jessica has her eyes set on bringing that unique offering to businesses and organisations in Armidale and beyond through her creative studio, The Blue Stamp.
Launched in 2018, The Blue Stamp Studio offers a combination of art and design. For Jessica, the two spheres have always gone hand in hand; each feeding the other through inspiration, perspective, and practicality. Taking advantage of this duality, The Blue Stamp Studio explores multiple avenues of thought and business.
Jessica specialises in printmaking, exploring traditional relief printing techniques inspired by her ongoing fascination with the natural world. These art pieces not only connect her to local initiatives such as Seasons of New England and The New England Contemporary Print Gallery; they also foster a community of support for like-minded creatives across New England and abroad.
Jessica's passion for design manifests in the Studio's commercial design arm, The Blue Stamp Graphics. The Graphics branch has enabled Jessica to combine her inspirations, practical artistry skills, and interest in modern design to deliver unique, innovative creations tailored to individual commercial needs.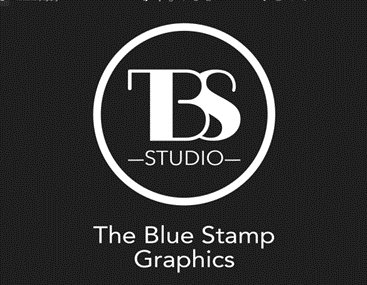 The Blue Stamp Graphics is a multi-disciplinary creative studio that strives to offer both innovative graphic design solutions and traditionally inspired illustration works for projects large and small. Within this freelance initiative, Jessica provides a variety of services including but not limited to:
Graphic Design
Branding & Rebranding
Marketing Strategy & Collateral
Digital Design (Web Design, EDMs, Social Media Content and more)
Traditional Illustration
Jessica shares, "As a creatively driven individual with a proclivity for multi-disciplinary solutions, I am a big advocate for human-orientated design.
This studio prides itself on its approach to organisation, time management, quality, and innovation. The studio describes its client-centrism as a commitment to realising clients' goals, listening to opinions, and responding to their needs.

"These are pieces that value honesty, understanding, and originality. They are not only designed to improve the viewer's experience- they also create lasting, memorable messages.
"Every aspect of my clients' vision is integrated in their project design in some way," Jessica says.
"I provide a one-on-one consultation to go over every aspect of a project's perimeters and requirements. Open and ongoing communication is very important to me, and I recognise that each project I undertake continues to evolve throughout the creative process."
Jessica concludes, "I am extremely motivated to pursue multi-disciplinary approaches and embrace innovative thinking. Along with my skill in branding and all things creative design, I have a great eye for detail and a can-do attitude. I would be thrilled to be a part of your next design project!"
To find out more about The Blue Stamp's story, visit the Studio website, follow @the_bluestamp on Instagram, or contact Jessica directly via email: jjserov@gmail.com.