Northern Tablelands State MP Adam Marshall has called the environmental impact statement for the Winterbourne Wind Farm project at Walcha "the very worst EIS I have ever, ever seen."
The Walcha Bowls Club was packed with over a hundred people last Thursday at Voice For Walcha's first meeting, hosted by Damien Timbs, to discuss the EIS and encourage attendees to fill out submissions against the project.
Video submissions of objections from residents were played, with concerns raised about the loss of the area's natural beauty, the ability of Walcha's roads to handle construction traffic, end-of-life disposal of the towers and blades, and biodiversity concerns over the wind farm.
The proposed site abuts Oxley Wild Rivers National Park, which holds vulnerable species like tiger quolls, brush-tailed rock wallabies, koalas, and the critically-endangered New England Peppermint Gum.
Over a hundred people – a significant proportion of Walcha's residents – along with speakers Mark Fogarty, Federal Member for New England Barnaby Joyce, and NSW Member for the Northern Tablelands Adam Marshall, were in attendance to discuss and hear questions on the EIS.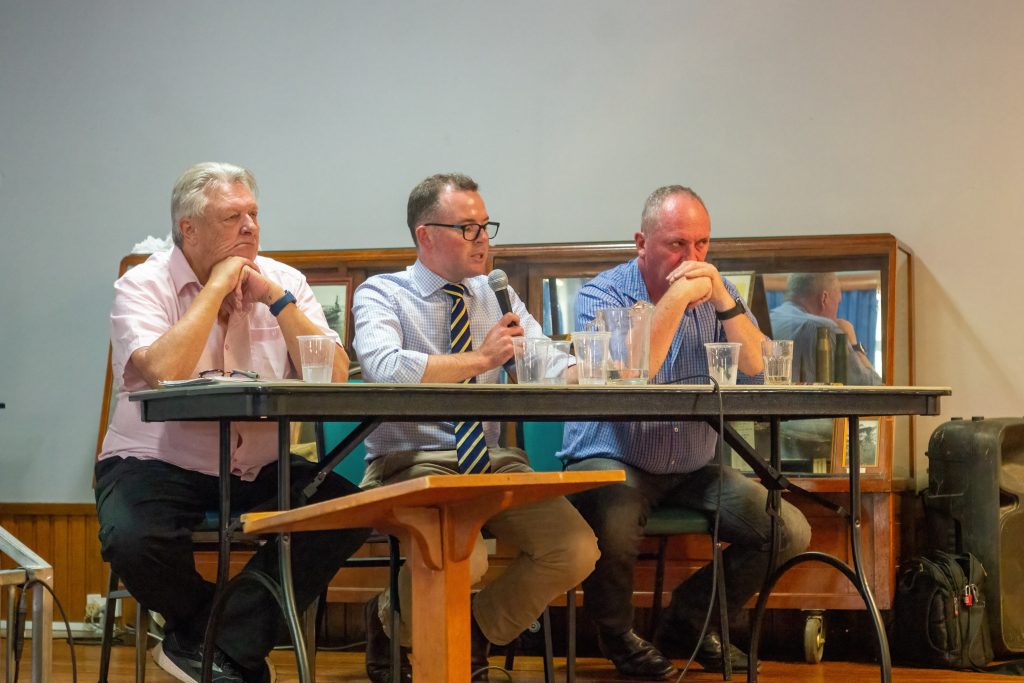 The "error-ridden" document has called into question Winterbourne's commitment to the project, but residents are still worried that the wind farm may still go ahead.
The EIS, released to the public on the 18th of November, was followed up nearly a month later on the 7th of December by five pages of errata from environmental consultants ERM Australia, containing numerous corrections.
These corrections include replacing deprecated references to a "Neighbour Benefit Fund", which was replaced with a "Community Benefit Fund", and correcting statements that fewer bird species occupy the World Heritage Area next to the project.
The EIS submitted by the developers may prove the biggest hurdle to the project, with Marshall stating that the EIS "is woefully deficient in so many areas."
"It is almost as if the developer is just trying to do the absolute bare minimum," Marshall said, "I can't work it out. None of what has transpired in the last four or five months is the actions of a proponent that is genuine about getting a proposal up and across the line."
"I don't say that lightly, because I've seen a lot of cowboys in this industry, as there are in the mining industry in the coal seam gas industry."
Mark Fogarty, solicitor and small-scale energy developer, believes that effort put into the EIS may show that Vestas, the Danish wind turbine giant that has been behind the project since 2019, may have given up on the project or even sold it already.
"I wouldn't be surprised if they've already sold it," Fogarty said.
"They've moved on. All these developers are checking every car coming into town hoping that Twiggy Forrest is arriving with a big cheque."
Federal Member for New England Barnaby Joyce renewed his support for modular nuclear power to replace wind turbines.
"Rolls Royce is developing one for the city of Leeds to come online 2029. It is 16.4 metres high and 4 metres wide. And Leeds has 503,000 people. So something 16.4 metres high, and 4 metres wide is going to do one and a half Canberras."
Joyce called on Walcha residents to take a more direct approach in letting their opposition to the project be known.
"You've got to arrive in Canberra on the Federation Lawn at Parliament House. You know, it really scares politicians. What really scares me? It's when I look out the front, and there are a whole heap of people there, and they're angry at me – that I worry about."
One attendee, who did not wish to be named, later questioned the ability of rural voters to take time off from farming just to go down to Canberra or Sydney to protest.
Marshall suggested that the more practical approach for Walcha residents was that individuals keep voicing their opposition to the project to the Independent Planning Commission.
"50 individual submissions to the Department of Planning triggers an automatic referral to the independent Planning Commission."
"That'll probably add another 12-18 months to the process."
"The IPC will come up here, they will hold public hearings into this proposal, they will engage their own independent experts to assess what the proponents are putting forward."
No one representing the Winterbourne Project attended the meeting.
Submissions on the EIS close this weekend on 23 of January.
---
Have something to say about this story? Submit your own opinion piece, or quick word, to The Net.