The Guyra Lamb and Potato Festival is on again from January 11 to 23, and is set to be the best yet after two consecutive pandemic cancellations and the new pavilion providing an indoor entertaining and eating area.
The annual festival has been running since 1987 and showcases local produce, with delicious lamb and potato meals, boutique stalls, and daily entertainment and activities.
Guyra Lamb and Potato Festival President Steve Mepham says there's been some late cancellations of stalls, giving local businesses and creators an unusual opportunity to join the festival at late notice. Normally all the stalls are booked out well in advance.
"We have a number of vacancies for stall holders due to recent cancellations for medical reasons."
"Even if they are not in a position to trade the full 12 days, we will accept weekend casual spots this year [because of the cancellations]," Mr Mepham said.
All the other well loved features of the festival will be there, including:
a full music program
lots of food options, including lots of Guyra grown produce
the antique machinery rally
Car Club Show n Shine
Rail trike operating every day (weather permitting)
Model train displays in the last week
There are also a number of related events held in the community to coincide with the festival. This is the first year the festival will operate since the Australian Poetry Hall of Fame was opened in 2020, and they're getting involved with a comedy show and a bush dance on the last day of the festival.
The highlight of the event this year is finally getting to use the new entertainment and eating area. The $130,000 'Guyra Spud Shed' pavilion was built to allow patrons to enjoy the festival if the weather turns by providing an all weather dining and performance space.
"We built this with a grant just as Covid hit the country and we haven't had a festival since to use the new facilities." Mr Mepham said.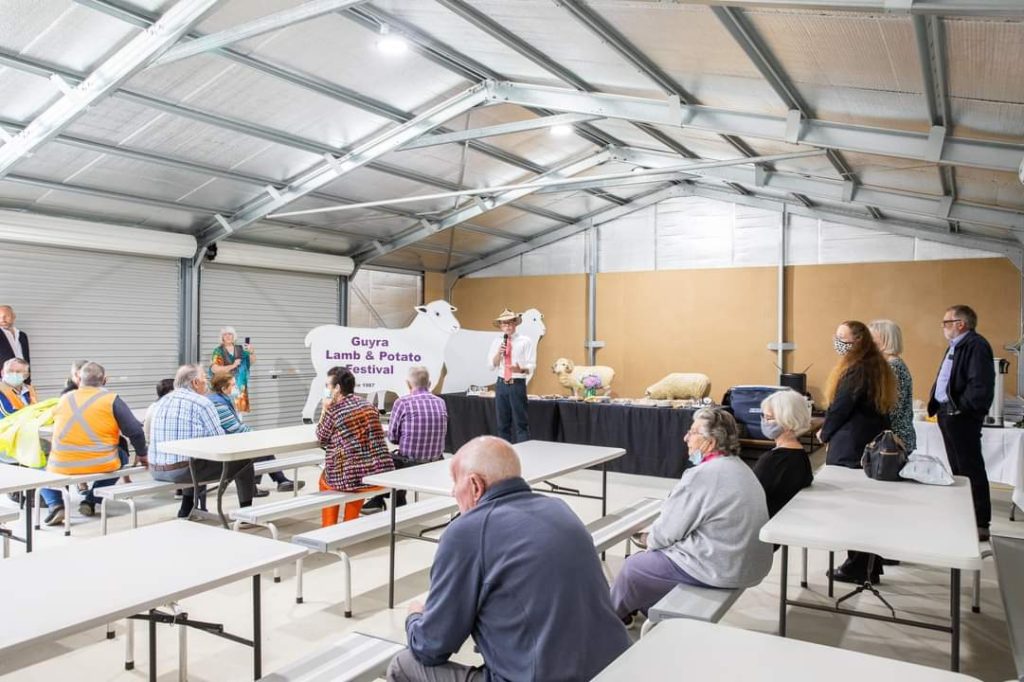 Northern Tablelands MP Adam Marshall opened the facility last year, congratulating Steve and the committee for persevering despite the two consecutive cancellations due to the pandemic.
"I'm sure volunteers won't know themselves when they no longer have to spend a day putting up and pulling down marquees, but instead can put all their efforts into preparing the famous lamb and gravy rolls," Mr Marshall said at the opening.
Thos interested in taking up a stall should call 0404 485 585 or message the Facebook Page.
---
Have something to say about this story? Submit your own opinion piece, or quick word, to The Net.