TAS student Wylie Wright has been recognised for his service in cooking meals for people in need, taking out the title of Young Volunteer of the Year in our region.
When Wylie Wright and five other TAS students started cooking meals for the Armidale Neighbourhood Centre early last year the end goal was to qualify for a Duke of Edinburgh award. Long after he met  the requirements Wylie is now the student leader of the program with an appetite for service that has been rewarded with him being named New England/North West Young Volunteer of the Year. 
"After I had gained enough hours for my Bronze Duke of Edinburgh award I continued cooking  sessions as there was really no reason not to," said Wylie.
"It was a minor commitment that had such a large benefit on the community, and little detriment to myself.
"There was no reason that any of the other students had to be there, there was no award they were working towards, they were just making a small and simple sacrifice of time to benefit others – so there was no reason that I shouldn't be there either," he said.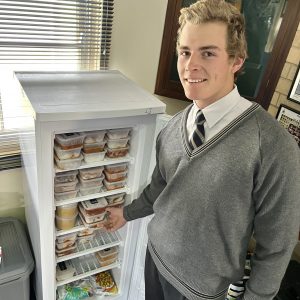 From six students cooking 40 meals a week early last year, the program, set up by the school's  Challenge and Service Coordinator Mr Jim Pennington, has now grown to around 40 students spread across four separate sessions. Between them, the students prepare up to 100 meals a week – spaghetti  bolognese, butter chicken or ravioli and sauce, portioned, packaged and labelled with the ingredients and a sticker or message of hope and support for the recipients. 
"Earlier this year we were given the opportunity to visit the Centre and saw our meals packed into freezers in the kitchen that is provided for the community, as well as amenities such as a laundry,  computers, and showers and toilets."
"Service opportunities like this give us the chance to improve the local community and make life a little easier for those who could be in a better position," Mr Pennington said.
Along with a sense of service is a greater understanding of issues such as homelessness and domestic abuse, highlighted during the annual TAS Sleepout which this year involved 140 boys and girls.
"Wylie is reliable, engaging and motivates others to join in – all without any fanfare, just because he knows it is the right thing to do," Mr Pennington said.
Wylie and the other regional winners were presented with their awards at the NSW Volunteer of the Year regional awards ceremony held at Armidale Bowling Club last week. Wylie will now move to the state final in Sydney in December.
Like what you're reading? Support the New England Times to keep providing hyper-local news, for the New England and by the New England, pay wall free. Make a small contribution today.