Armidale Secondary College has been locking student bathrooms due to violence and anti-social behaviour, and in the process created a bigger issue of denying students basic rights and dignity.
In last week's outburst of complaints online about ASC, the state of the toilets was a common theme. The allegation is that most or all of the student toilets are locked during the school day, resulting in children having to search for an open bathroom. When they find one that is unlocked, the toilets are often filthy, vandalised, or crowded with children. Students are apparently being humiliated, wetting themselves or girls having blood soaking through their clothing during their period. While the school says the toilets are cleaned daily after school, students say they don't think the toilets are being cleaned at all, creating a significant hygiene issue.
What the officials say
The NSW Department of Education acknowledged that the school 'has some challenges' that they are working to resolve, and claims the decision to lock three of the nine student toilet blocks during class time was made in consultation with students and parents.
"Armidale Secondary College's student bathroom procedures are in line with those of secondary schools across Australia," a spokesperson for the NSW Department of Education said.
"Toilets are available and easily accessible for all students at Armidale Secondary College throughout the school day and before and after school."
"Along with all students at Armidale Secondary College, all efforts have been made to ensure any student with a medical condition has access to toilets as required."
The Department also says the toilets are cleaned daily out of student hours and period products are available.
What the students say
These claims are refuted by students, who say that whether any of the toilet blocks are open at all is at the discretion of particular teachers, and which toilet blocks are open varies day to day. This is resulting in students having to run from block to block to find one that is open. And if they do find one open, they're usually unclean or unusable.
"They're disgusting," one student told us.
"They're always filthy. The toilets are often vandalised or blocked with food or rubbish, and you have to run from building to building to find one that is unlocked and working," said another.
"Our current son aged 13 who is autistic is scared of the fighting in the toilets as well as the filth in there. He therefore won't go to the toilet and recently wet himself before getting home," said a parent.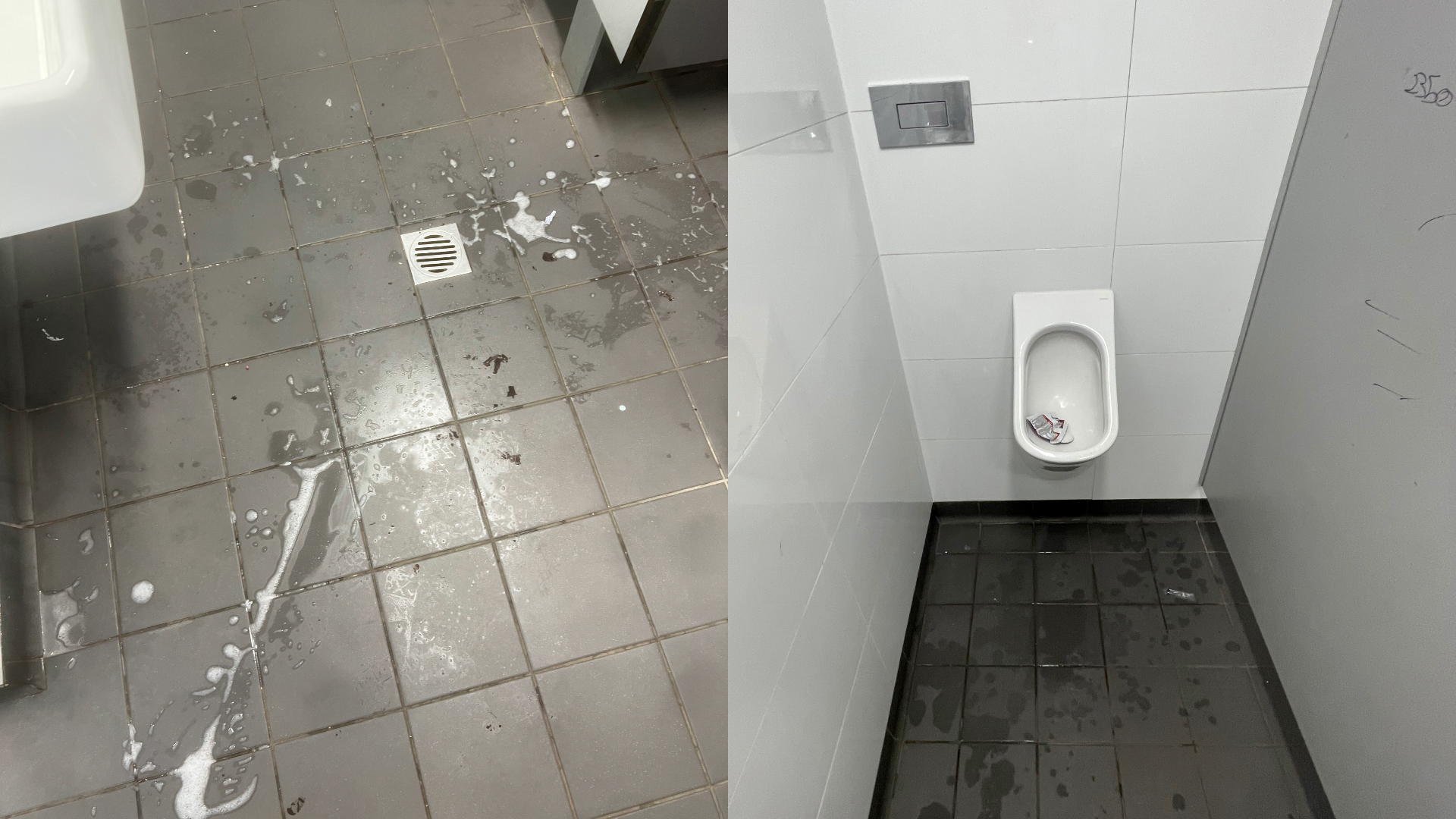 Photos of toilets taken at ASC on Tuesday showed rubbish in the toilets, and mess on the floor and the walls. One student who sent photos said the bathroom had not been cleaned since the previous week.
"The picture shows coffee that had been thrown at the wall last Friday that is still on the wall. Very bad smell," they said.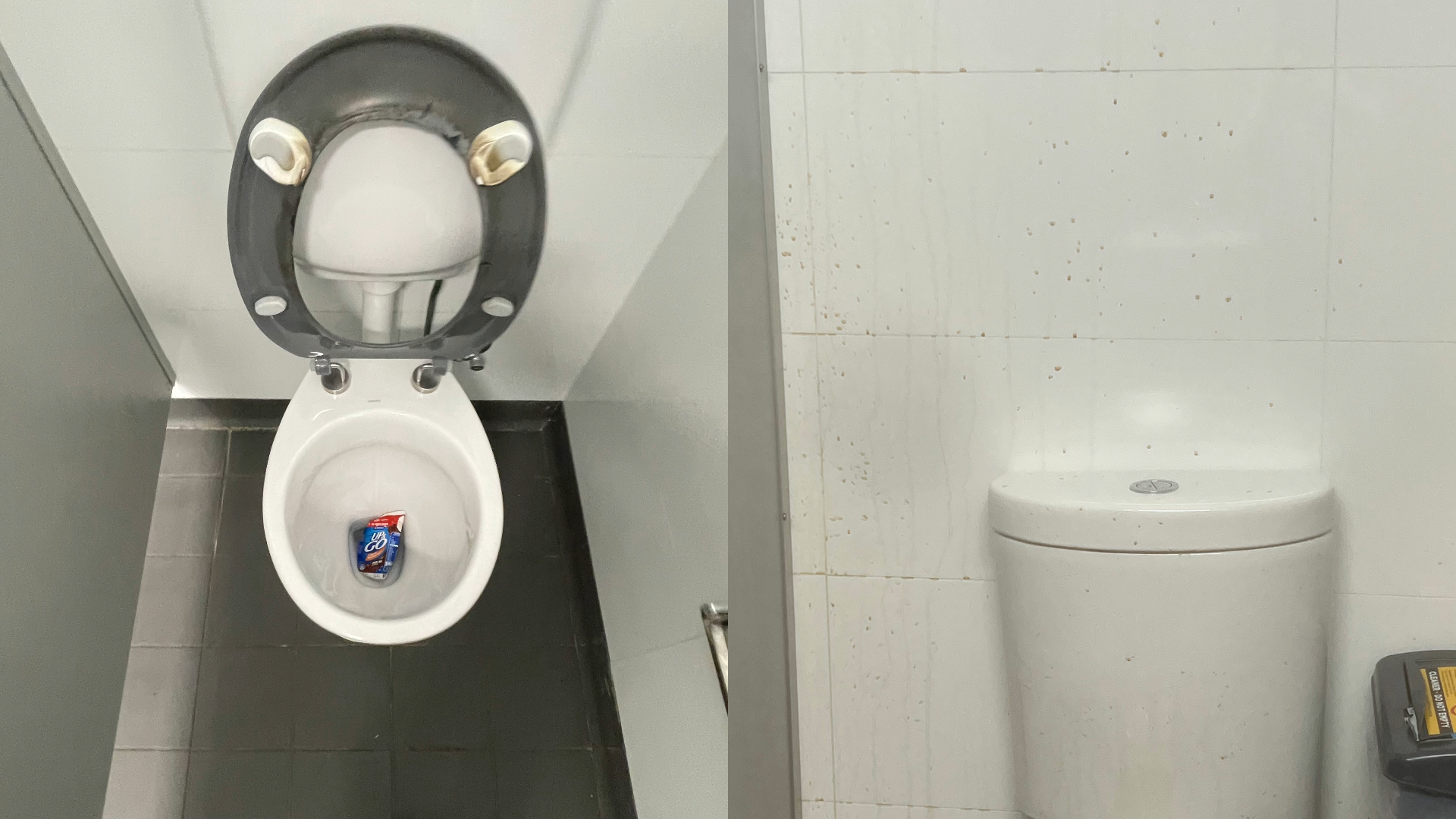 Girls have particularly suffered under the policy, with some being subjected to extreme humiliation while trying to manage their period.
"Our pants and undies are being destroyed from our period as we can not change our pads or tampons throughout the day," one girl said.
"I use a tampon and a pad together and it's just disgusting to not be able to change them," said another. "I've started just staying home when I've got my period."
One parent said their son was visibly shaken after witnessing a classmate being belittled by a teacher for asking for a key to the bathroom, in front of the class, while standing cross-legged with blood dripping on the floor. This incident was reportedly raised in a recent P&C meeting, but it was not recorded in the minutes.
Students have reported often using teacher's bathrooms as they are more reliably unlocked, however, disabled bathrooms are not a safe option as they say those spaces are being used by kids doing drugs. A number of parents have reported that their kids won't use the bathrooms in the school, holding it until they get home or leaving the school early.
A human rights violation?
Many commenters, students, and parents have raised that being unable to access the toilets may be a human rights violation.


Access to sanitation is a human right that was explicitly recognised as a distinct right by the UN General Assembly in 2015. A report by Human Rights Watch on sanitation as a right argues that the right to sanitation is interlinked with the right to education, and girls are particularly vulnerable to the violation of this right.
"Government action, inaction, and discrimination can create barriers to adequate sanitation in school settings that undermine several human rights and have devastating, and sometimes lifelong, consequences upon the educational opportunities of the most vulnerable students," the report reads.
"The right to sanitation and education are interrelated and without access to adequate sanitation in schools, children will continue to miss out on valuable opportunities to attend class and learn."
"Private and clean sanitation facilities are essential to ensuring girls can manage their hygiene during menstruation, without disruption to their education."
The policy of locking bathrooms has also and fuelled conflict among students with large numbers of kids congregating around the unlocked bathrooms waiting to access a toilet. In our next story in our series on ASC, read about a boy whose jaw needs to be broken and reset following a bathroom-related beating.
---
This story is part of a series the New England Times is working on about Armidale Secondary College. As the school's leadership works on 'codesigning a new vision' for the school, reports of violence, bullying, and other issues within the school are not dying down. We want to hear your stories – the good and the bad – whether you're a student, parent, teacher, or other interested member of the community.
Email newsdesk@netimes.com.au or DM our Facebook page if you'd like to tell your story. The names of all parents and children in personal stories is being changed to protect the children involved.
Some of the content in these stories is distressing. If you or anyone you know needs help, please contact: