With at least 8 GPs leaving town, naturally, the first question to arise from those who have lost their doctor is: who's available now? Is anyone taking new patients?
There's just 7 local GP practices to call, not including West Armidale which will be telehealth only from next week, most are turning new patients away, and the situation is not good.
We surveyed Armajun Aboriginal Health Service, Rusden Street Medical Practice, UNE Medical Centre, Faulkner Street Medical Practice, Ochre Medical Centre, Integral Health Armidale, and the Armidale Medical Centre, in hopes of painting a clearer picture of GP availability for locals.
Here's what we found: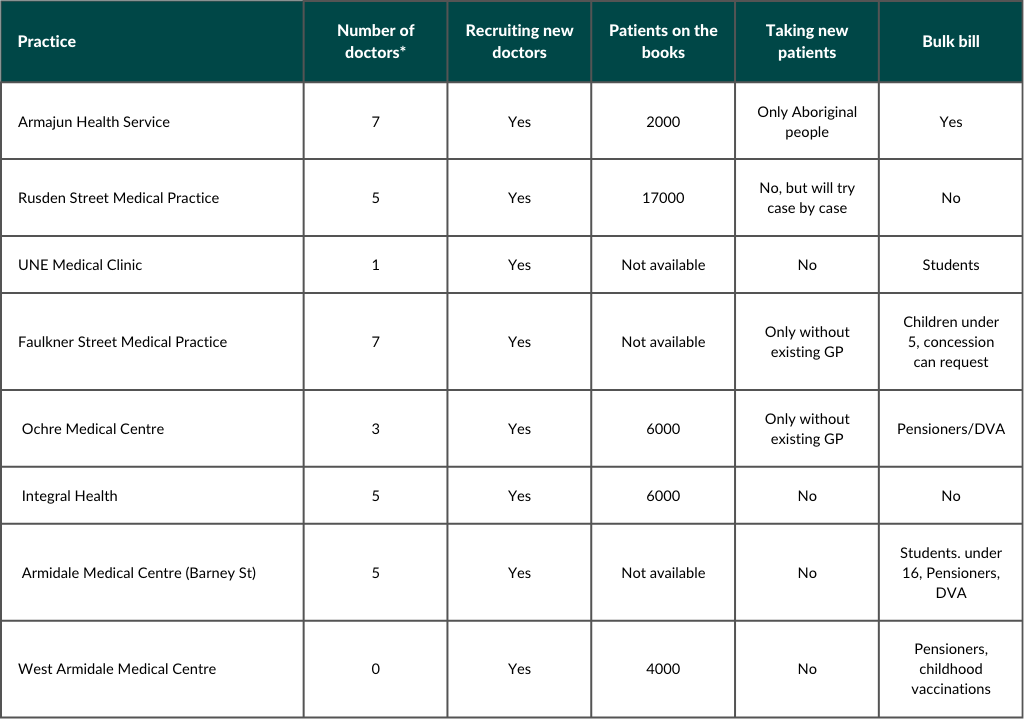 Over half of local GP providers have lost or are about to lose doctors, and every single practice is calling out for help on behalf of the patients they support. But it's not just the doctors feeling the stress; staff on the front lines are just as alarmed, many being unable to see the doctor themselves.
Ochre Medical Centre is one of Armidale's providers currently struggling to find appointments for their 6,000+ patients. Practice Manager Maureen Heffernan said the drop in the number of GPs has placed everybody in the local medical community on permanent edge.
"We lost a GP in October last year, which brought us down to four, and we will lose another by the end of February."
"That's three doctors left to consult, diagnose, treat, and follow up on thousands of patients," Maureen explained, adding that one of the doctors is full time, and the other two work part time.
"Our GPs have had to make the difficult decision to turn away new patients who already have an existing relationship with another medical practice in the region, so that they can prioritise the influx of patients who are new to the region and have found themselves with little or no access to a doctor."
The busy practice has also taken on a number of recent refugee arrivals.
Maureen attributes much of doctors' unwillingness to relocate to a lack of facilities, infrastructure, and attractions in our local community.
"Everybody is trying their hardest to recruit GPs, Ochre included, but Armidale simply isn't attracting doctors. They don't want to live here."
"Without pretty drastic changes and community development across the board, this problem simply isn't going to go away."
A staff member from the Armidale Medical Centre weighed in:
"From a reception perspective, it's absolutely heartbreaking to tell people we can't take them on."
"They have no doctor and some really aren't well. They're desperate and vulnerable."
"It's their right to access healthcare when they need it but right now… although we are working at about 1000%, they just aren't getting the support they need."
"It's devastating, honestly."
Team members of Integral Health Armidale also commented, noting the loss of crucial registrar places throughout New England following cuts to training hours.
"For around 6,000 patients on our books, we have just 4 full-time doctors, 2 registrars, and 1 part-time doctor – and we will be losing a chunk of registrar hours soon because of training reductions."
They continued with a shoutout to community spirit:
"Armidale needs to feel supported by our local council and state and federal government to come together and entice GPs to the area."
"Locals are willing to pitch in – we have even people offering up their Airbnbs and investment properties for doctors to stay in."
"We have the willingness, we have the demand, we just need the resources. And at the end of the day, we need the doctors."
Advice from all clinics for patients hoping to see a GP remains the same; book an appointment if you can, keep an ear to the ground for any cancellations, and call 000 or present to hospital if you are experiencing a health emergency.
---
Have something to say about this story? Submit your own opinion piece, or quick word, to The Net.