It's the last weekend for the Guyra Lamb and Potato Festival, and it's a big one, with the show'n'shine, model trains, and bush dance on today.
A big success as always, people have been flocking to Guyra to get their Lamb and Gravy rolls at the normally annual event which was unable to be held in 2021 and 2022 because of Covid-19. After such a long break there was some concerns about this year, but the crowds are back like nothing happened.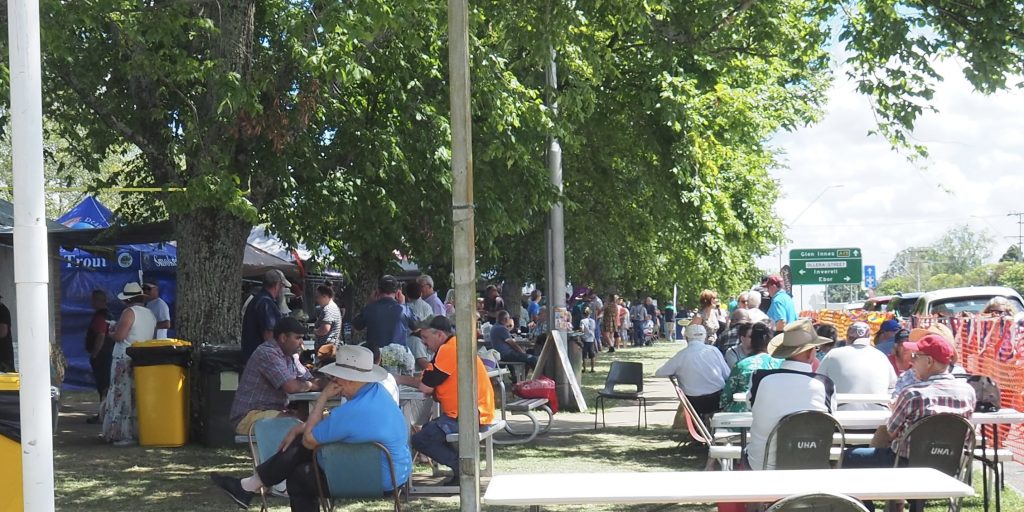 The Guyra District Automotive Club's show'n'shine is on today. There are usually over 150 cars parked down Bradley Street as part of the event, and a number of prizes to be awarded. Believed to be "possibly the biggest car show for a small country town", there's also a display of motorcycles as part of the event for those who prefer two wheel.
Also on this weekend:
The Antique Machinery Rally and Swap Meet
Burgess Garage Car Museum is open
The CWA Art Show
Local craft exhibition across the road in the church hall
Train rides to the old railway station
Model train display
Entertainment in the new building next to the Big Sheep
The main part of the festival also continues with lots of stall holders and – most importantly – the festival's famous lamb and gravy rolls.
Tonight there is a bush dance to celebrate the end of the festival at the Australian Poetry Hall of Fame in Bradley Street. The BANGON Bush Dance will feature The Big Hairy Bush Dance Band getting everyone up and come with a caller to walk you through all the dances so you don't even need to know how to dance.
Tickets can be bought in advance online or at the door and cost $15 Adults, $10 children or $45 family.
---
Something going on in your part of the region you think people should know about? Send us a news tip or email newsdesk@netimes.com.au.