The small village of Uralla has been reeling from news that the town's only full time doctor is going to close its doors in a matter of days due to what has been described as 'bureaucracy gone mad'.
Dr Ricardo Alkhouri is the sole doctor operating the Uralla Medical Centre with over 3000 patients on his books, meaning he has more patients than the entire population of Uralla. There is no hospital in Uralla and the only other clinic in the village only has two part-time doctors who are also at capacity. The next doctor is 20 minutes drive away in Armidale, which already does not have enough GPs to support its population, and is already caring for patients from centres to the north like Glen Innes and Inverell which are also short of doctors.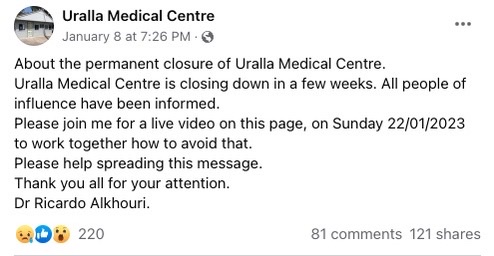 Dr Alkhouri's post to Facebook on Sunday night said he was giving the politicians until the 22nd of January to resolve the situation, when he intended to hold a live stream to explain and tell locals what would be required to stop the clinic being closed permanently.
Dr Alkhouri became very popular throughout the region during the pandemic holding open vaccination clinics, giving many who were frustrated at not being able to get vaccinated in their home towns an opportunity to get protected from the worst of Covid-19. Local state MP Adam Marshall was one of those who got vaccinated at the Uralla Medical Centre.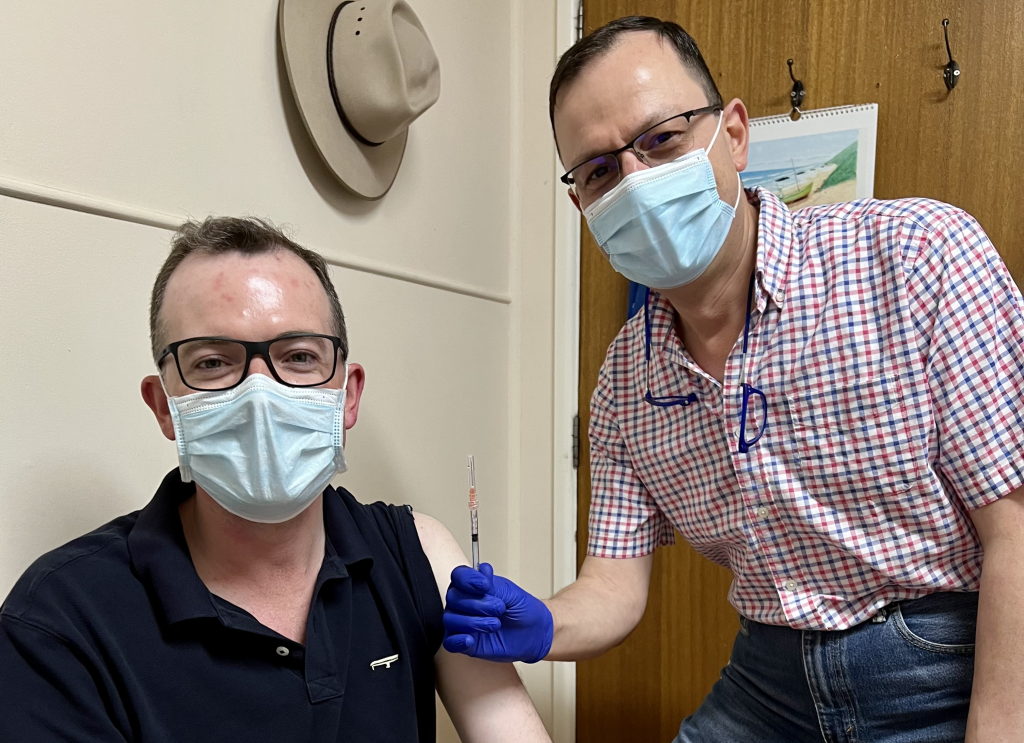 Both Mr Marshall and federal Member for New England Barnaby Joyce wrote urgent letters to federal Minister for Health Mark Butler yesterday when it was revealed the main cause behind the threatened closure was that Medicare had denied the Uralla Medical Centre some of the quarterly block funding practices rely upon due to a paperwork issue.
The Practice Incentives Program and Workforce Incentive Programs programs provide block funding to assist GPs with paying for facilities and hiring allied health or nursing staff. According to the letter received by Dr Alkhouri and released by Adam Marshall as part of his letter to Mark Butler, the funding was denied because he hadn't kept the accreditation for the practice current. Under the guidelines for these programs, which are administered by Services Australia on behalf of the Department of Health, practices must keep their accreditation to RACGP standards current at all times.
It appears that there was a misunderstanding in what paperwork was required from Dr Alkhouri to renew his accreditation and an additional document was required. While Dr Alkhouri was sorting out the administrative issue with the Australian General Practice Accreditation Limited (AGPAL), the Uralla Medical Centre was promptly cut off from the block funding by Services Australia. The misunderstanding has cost the centre about $120,000, and may force the clinic to close its doors.
The events come just days after NSW Premier Domonic Perrottet joined with Victorian Premier Dan Andrews in calling for an overhaul of Medicare and more to be done to improve access to GPs.
Many have offered to help to try and rectify the situation. A spokesperson for the NSW Rural Doctors Network, a charity that works to support the provision of medical services in rural areas, said they were working with Dr Alkhouri.
"RDN is aware of the situation in Uralla, and we are working with the practice to help ensure that the local community continues to access important primary health care services, now and into the future."
The President of the Royal Australian College of General Practice (RACGP), Dr Nicole Higgins, said decisive action was needed to stop more rural and regional practices closing their doors.
"It is extremely concerning but not surprising to hear of another practice closing its doors. This is the unfortunate reality for many communities across Australia, particularly in rural and remote areas, and a sign of things to come."
"Whilst I am not aware of the specific circumstances of this particular clinic in Uralla, it is the case that many practices are being forced to shut up shop at a time when patients are relying on general practice care more than ever before," Dr Higgins said.
"That is due to chronic underinvestment in general practice care going back many years, something that was compounded by the disastrous Medicare rebate freeze."
"To fix the situation we need government to act decisively. That includes increasing patient rebates for longer consultations by at least 20% to support complex patient care and ensuring that the most vulnerable can access the care they need by tripling bulk billing incentives."
"The solutions are in front of us and it's great news that Premier Andrews and Premier Perrottet are putting the future of primary care front and centre at the National Cabinet meeting at the start of next month. Unless urgent action is taken, more and more practices across Australia will be following Uralla Medical Centre and closing their doors, which will leave patients out in the cold and add to the pressures on our already struggling health system."
Member for Northern Tablelands Adam Marshall said it was one of the worst cases of bureaucratic overreach he had seen and considered it a 'matter of life and death' to keep the clinic open.
"I appreciate the importance of deadlines and accurate paperwork, especially in the medical profession, but with the viability of a critical rural medical practice on the line, a little bit of leniency should be considered and granted in this instance.
"If this decision isn't reversed it will have huge adverse consequences for Uralla and our region," Mr Marshall said.
Federal Member Barnaby Joyce is calling on the government to urgently and proactively engage with Dr Ricardo Alkhouri to resolve any outstanding issues.
"This is an issue of critical importance to the local area. We can not have another country town lose a doctor," Mr Joyce said.
"If bureaucracy stands in the way of rural doctors being able to service local families, then it doesn't matter what dollar-figures are promised in a budget – there [will be] no one on the ground to deliver those services in local communities", he said.
A spokesperson for Federal Minister Mark Butler said the Minister's office was made aware of the situation in Uralla yesterday.
"The Minister's office has tasked his Department to work with the Primary Health Network and local providers to look for a possible solution."
The Department of Health have also been asked for comment but did not reply by today's deadline.
Patients have been taking to social media to express their dismay and shock at the situation, and joining in the calls from politicians for something to be done. Many are also expressing their thanks to Dr Alkhouri for being an excellent doctor and serving their community well.
Early this morning Dr Alkhouri declined to be interviewed by the New England Times saying he wanted to leave the matter in the hands of the politicians, but said he still intended to hold his Facebook live on the 22nd of January.
---
Have something to say about this story? Submit your own opinion piece, or quick word, to The Net.