It has not yet submitted a development application, but local activist group Red4ne is already raising concerns about the proposed Squadron Energy (formerly CWP) Boorolong Wind Farm.
Red4ne is a local community-based not-for-profit that was launched in 2021 with a focus on keeping residents of New England informed about the on-goings of renewable development in the area. Matt Onlsow from red4ne says the group is a community alliance for responsible renewable energy development that aims to give a voice to concerned communities and landowners and reiterates that they are not anti-renewables but simply call for responsibility for large-scale development.     
"Red4ne has a series of responsible development protocols that are listed on our website and we encourage people to read over those protocols as they present as fiduciary benchmarks for responsible investment in renewable energy development in the New England REZ." 
Social media posts from members and supporters of red4ne have been trying to raise early awareness of the Boorolong proposal, raising concerns about impacts to view, groundwater and wildlife.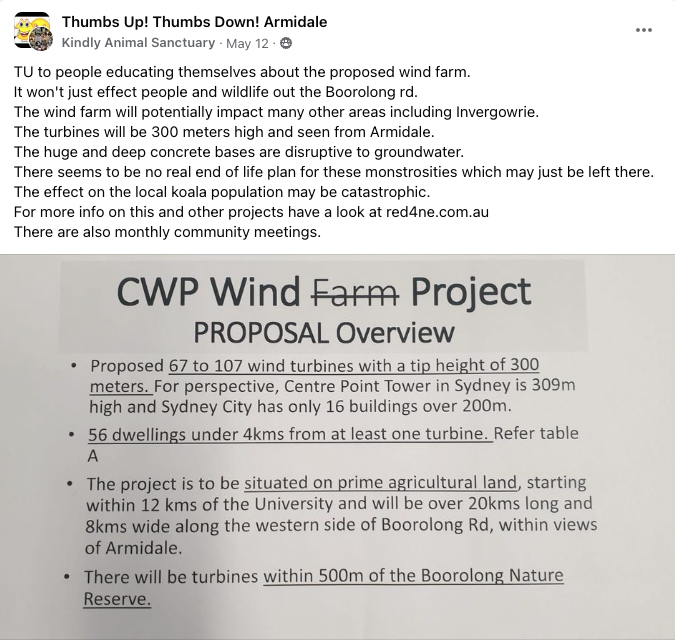 The Boorolong Wind project is currently in the planning stages of development.  An indicative timeline released in a June 2022 CWP newsletter illustrates community consultation and project design/refinement as an important stage throughout 2022 and 2023 with environmental approvals expected to be processed in 2024 and commencement of construction in 2026.  
The proposed wind farm is located within the New England Renewable Energy Zone (REZ), which is expected to provide up to $10.7 billion in private sector investment while supporting around 800 operation jobs and 1200 construction jobs.  The New England REZ has an intended overall network capacity of 8 gigawatts, with the Boorolong project estimated to provide 435 Megawatts of that across 67 turbines. The New England Area and other renewable energy zones will have a huge part to play in Australia's bid to reach intended net-zero targets. 
20km North-West of Armidale, out past Dumaresq Dam on the Boorolong road, is the site of the proposed Squadron Energy wind farm.  Squadron Energy (formally CWP Renewables) is an Australian renewable company that develops and owns renewable assets in Australia. Squadron Energy has acquired wind farms with about 1.1 GW of generation capacity in operation or late-stage construction and a large portfolio of potential developments, Boorolong included.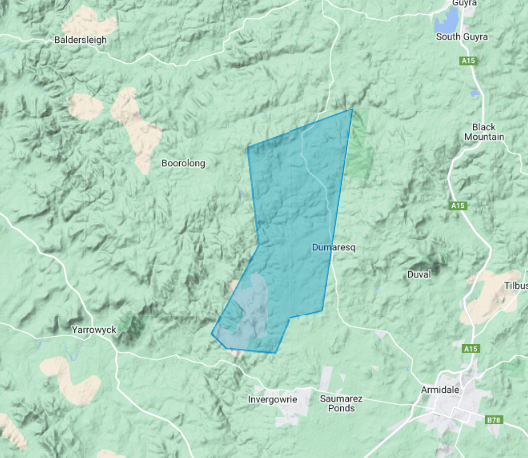 "What we are hearing from the people in the communities who are living in these proposed development areas is that they are tired of feeling as though they have been left in the dark."
"Transparency is one of the key concerns that has been identified when it comes to the rollout of large-scale renewables by developers," Matt Onslow from red4ne said.   
Red4ne lists cumulative impacts, environmental and land use impacts, end-of-life tower and panel impacts, as well as community impacts as its major concerns.  A visit to the 'responsible development protocols' on the red4ne website reveals protocol number 1 as being 'Genuine Social License', which entails 'genuine community equity and expectations based on real community acceptance and inclusion.'  
Squadron Energy frequently say they have team members in the area engaging with landowners and neighbours and will be scheduling information sessions for the community later in the year, as they did last year. They also recently funded an Anaiwan men's and boys' cultural camp, as part of their commitment to support the community.
Squadron Energy's Boorolong Wind Farm Project Manager Samuel Newman said the sponsorship shows Squadron's commitment to supporting the communities where projects are based. 
"We have undertaken cultural values mapping in the region as part of our project planning and engaged with a number of local indigenous groups to gain insight into indigenous culture and history in the area," Mr Newman said.
For more information regarding any upcoming community forums or information sessions, visit: www.boorolongwindfarm.com.au
To Visit Red4ne:  https://red4ne.com.au/
Like what you're reading? Support the New England Times to keep providing hyper-local news, for the New England and by the New England, pay wall free. Make a small contribution today.