The New England has received a 'green tick' in a national environment report card, with 11 of the 12 local government areas improving their score from last year.
The Australia's Environment in 2022 report, recently released by Australian National University, details the condition and trajectory of natural resources and ecosystems and gives regions a score out of 10.
The report is produced by the Terrestrial Ecosystem Research Network (TERN), Australia's land ecosystem observatory. They provide long-term preservation and access to ecosystem data for researchers and decision-makers to help Australia prepare for the future.
The North West and Northern Tablelands local land service areas received one of the highest ratings across the state in this years TERN report, scoring 9.7 (up 0.3) and 9.5 (up 0.6) respectively.
Of the 12 local government areas, all went up except for Moree, which slipped 0.1 to a still impressive score of 9.3. Tamworth, Armidale, Gunnedah, Liverpool Plains, Narrabri and Gwydir Shire areas all achieved a score of 9.6. Walcha was the only LGA to score below 9, just missing the mark at 8.9. Glen Innes Severn and Walcha scored big improvements, increasing their scores by 0.7, slightly beaten by Armidale which led the region with an increase of 0.8.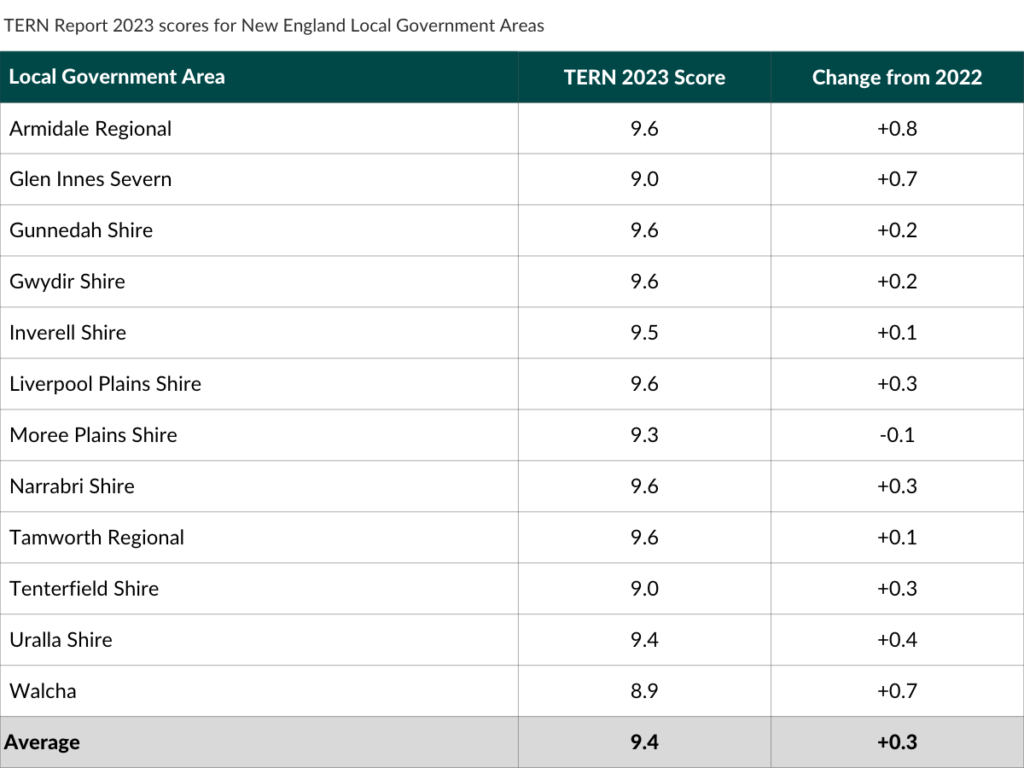 Member for Northern Tablelands Adam Marshall warmly welcomed the news and says the report is a testament to the combined efforts of farmers, land managers, local land care groups and volunteers who have been doing some outstanding work across the region on private and public land.
"It's extremely welcome news for our communities", Mr Marshall said.
"I'm particularly pleased the report details the increased levels of woody and native vegetation cover across the region, growing over the last few years, as well as the sharp reduction in the amount of unprotected, or erosion prone, soil cover".
Vegetation condition, vegetable growth and exposed soil in the New England area have all seen improvement, which is especially pleasing after the experiences of extensive bushfires and drought between 2017 and 2020.
"It also shows the framework that farmers have been working under for the past few years and their on-farm practices are fit for purpose, as our region has turned into a $2 billion-dollar agricultural powerhouse while also conserving and improving the environment".
Measures of the condition of natural resources and ecosystems are summarised from several spatial data sources. Land cover, fire occurrence, burn extent, exposed soil, and vegetation leaf area are derived by automated analysis of satellite imagery. Other indicators are estimated by integrating ground-and satellite data with environmental prediction models.
Detailed national scale measurement has become possible thanks to satellite technology.
Australia has seen critical improvement in water availability and plant growth in 2022. Rainfall, river flows, wetland flooding, vegetation growth and tree cover in many parts of Eastern Australia reached their highest levels since before 2000. However, despite many positive developments, three major environmental challenges remain; habitat destruction, invasive species and climate change.
The combination of satellite mapping technology and projection models that give the kind of national scale measurement detailed in the TERN report offers valuable tools for supporting the future sustainability of a biodiverse environment. 
To take a look at the Australia's Environment in 2022 report, visit www.ausenv.online
Like what you're reading? Support the New England Times to keep providing hyper-local news, for the New England and by the New England, pay wall free. Make a small contribution today.