The announcement of the Labor government's National Electric Vehicle Strategy has promised to increase charging access across Australia, but range anxiety still remains a factor for regional EV users, even as their viability increases and older technologies are phased out.
EV quality and practicality is improving, with some early adopters suffering for quick uptake of the technology. Mark Roja, who owns an Mitsubishi i-Miev said that it was "the poster child for negative stereotypes around EVs" with a range of only 100km on the highway.
"After 12 years, the range had reduced to the point where a trip into town was sketchy," Roja said.
He later found a mechanic in Brisbane who upgraded the car to a higher-capacity power pack that increased the i-Miev's range even beyond what it was new.
Roja's BYD has been a massive improvement, and has done more than 12,000km since December.
"The Atto 3 has enough range to do all the driving we've done."
"It's great! It does require a small amount of planning for a trip."
"Over summer, we produce more solar than we can export," Roja says, "so all the driving has been at no cost."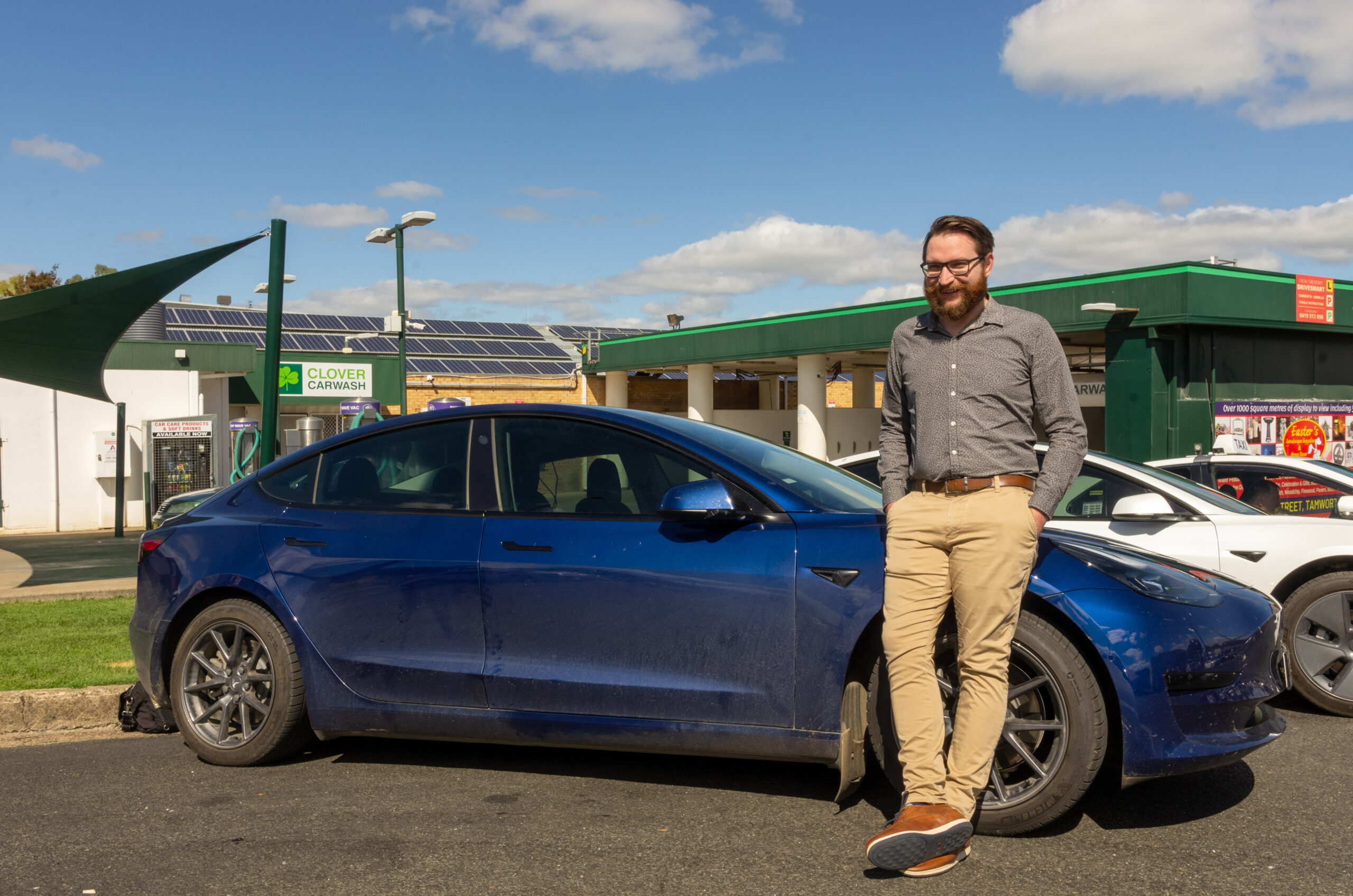 Adam Petronaitus said the free updates as well as the removal of the Fringe Benefits Tax secured his purchase of a Tesla. Petronaitus' work car was up for renewal, and he thought he'd try a Tesla. 
"In terms of features, maintenance costs and range, the Tesla at the time was the best value for the money on the market, but the frequent software updates that provide new features were definitely a big consideration," Petronaitus says.
Both his cars have towballs fitted, and are regularly used for towing. Petronaitus says that the range is great for what he does, but he doesn't push them past 300 or so kilometres.
"They may be capable of more, but I don't want to get stuck."
Corrina Lalor hasn't even received her Tesla Model 3 yet, but already started the Tamworth Teslas and EVs Facebook group in anticipation of the delivery. Lalor started the group as a forum for all EV owners in the Tamworth area, not just Tesla owners.
Tax breaks were a big part of going EV, but Lalor says her husband had been interested in them since the first Tesla Roadster launched in 2008.
"The government incentives – removal of the fringe benefit tax – pretty much gave us the green light to go ahead and order one," Lalor said.
"We did that straight away, as soon as it passed parliament."
It was a long, carefully-researched and thought-out purchase, Lalor says, that led to buying the Tesla. Lalor and her husband had looked at the BYD Atto 3 and the Kia EV6, but chose the Tesla for its Supercharger network. The fact that the Kia had a three-wait time on new models also swayed them towards the Tesla, which they ordered in December 2022 and expect to have delivered soon.
Charging, Lalor says, will be handled at home with a dedicated Tesla wall charger, and they chose the Long Range model of the car to cope with annual trips to Hervey Bay.
Tim Stebbings, Woodleys Motors General Sales Manager, says that, at the moment, EV sales make up less than 1% of their business.
"But we're hopeful that sales will increase with new models on the way from Subaru, Renault, Jeep, and Volkswagen, among others."
"We've spent a lot putting in the infrastructure and training technicians."
When interviewed, Stebbings' Hyundai dealership had no electric models on the floor – having just sold the last one the weekend before. The buyer, Stebbings says, was a local business.
"We've had a range of businesses contact us," Stebbings said.
For many businesses, EVs make sense: short trips in a small range, close to infrastructure and support, with the vehicle not being used overnight in the same place and able to be charged.
It's one of the ways that the EVs are poised to take the place of diesels, the previous high-torque, low cost engine of choice, but without the emissions. Manufacturers like Volvo have already phased out diesel engines, and seek to have an all-electric fleet by 2030, with most vehicles in the range having some form of electrification, even if it's only in the form of a "mild" hybrid powertrain.
Jeff Nethry, a salesman for Volvo, said that some customers still haven't built up the trust in the technology yet.
"One lady," he said, when he suggested a pure EV, "wouldn't have a bar of it."
The customer bought a hybrid.
Like what you're reading? Support the New England Times to keep providing hyper-local news, for the New England and by the New England, pay wall free. Make a small contribution today.