Pre-election claims and counter claims are coming out of Sydney thick and fast, and it's hard to miss that both parties have decided domestic violence is a key issue for the poll that is now just 48 days away.
Over a dozen domestic violence announcements have been made so far, making it somewhat challenging to be clear on who is pledging to do what about the issue.
The New England and surrounding areas is the north and west of NSW have some of the highest domestic violence rates in the state. Walgett (2367.9 incidents per 100,000 people) and Moree (2164.1 incidents per 100,000 people) have more domestic violence than anywhere else in NSW. There's a significant drop to the third highest, Coonamble ranked third 1484.5 incidents per 100,000, then Broken Hill, and Dubbo, and Inverell comes in sixth with 1113.6 per 100,000. Narrabri is tenth, Gunnedah is eleventh. Tamworth is ranked the 27th highest and Armidale comes in at 29. Walcha, Uralla and the Gwydir Shire are the only parts of the New England and North West outside of the top 40.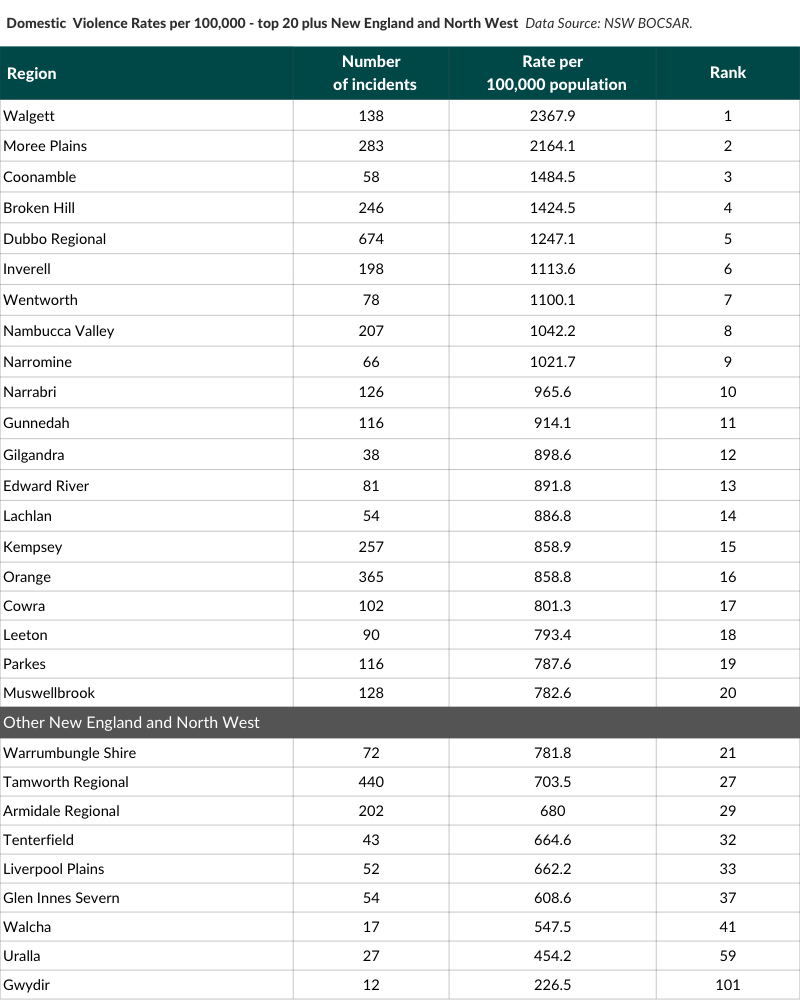 Of the 131 districts used by the NSW Bureau of Crime Statistics and Research (BOCSAR), none in the top 20 are in greater Sydney. So, you'd expect on the sheer weight of evidence that all the domestic violence chatter would be directed at regional interventions, right?
Of course not.
The Liberal and National parties have pledged the following or are currently doing in Government:
$426.6 million to expand the Core and Cluster initiative, to deliver and operate new women's refuges that will support up to an additional 2,900 women and children escaping domestic and family violence each year.
The 'Right To Ask' scheme where people can find out if their partner has a history of domestic violence offences.
$20 million over two years for up to 200 additional electronic monitoring devices for violent offenders.
Funding a specialist Domestic and Family Violence List across three local courts and funding a surge of five additional magistrates to ensure cases are heard earlier in the next term of Government.
Waiving the Rentstart Bond Loan eligibility criteria for people leaving domestic violence and access to First Home Buyer Choice and First Home Buyer Assistance schemes to victim survivors;
$2m for multicultural domestic violence support groups
Many of the proposals have been criticised for being 'performative': being seen to do something, rather than actually doing anything. The Right to Ask program was trialed with very low take up, and it is not expected to be more popular on a wider scale, and concerns have been raised with respect to breaches of privacy, potential for misuse, and even lulling victims into a false sense of security. Specialised DV courts have been implemented in Queensland, but analysis by Griffith University found over half of victims and perpetrators didn't show up to hearings.
The Core and Cluster initiative is an impressive program building new refuges of self contained accomodation around a 'core' of support services. The plans include four additional refuges in the New England, bringing the total facilities to cover the entire region to eight, which is an improvement but still means most centres in New England do not have access to a refuge. Additionally, there is no indication the design of the 'cluster' of apartments is modified for regional areas to reduce them standing out in our different street scapes, and protect the privacy the independent living is supposed to provide.
The sole DV initiative getting support from announcements so far that is regional in its origin is Lucy's Project, a Lismore based organisation which improves access to support for people with animals experiencing domestic and family violence… but that funding was announced as a dot point in an animal welfare package.
Labor has pledged to match or continue the Liberal National programs, and additionally committed to:
While both parties are frequently at pains to mention 'including regional and rural areas' in their now daily press statements, any cursory look at the various pledges would indicate we are still living under the Government for Sydney.
---
Have something to say about this story? Submit your own opinion piece, or quick word, to The Net.