New data from CoreLogic reveals that property values in the New England North West boomed a whopping 12.6% in 2022, the second highest growth rate in the state.
Only the Riverina, with a growth rate of 14.2%, was higher than our region. Most regional areas grew substantially over the year while the Sydney market crashed wiping over 10% off the value of the average house. The biggest losses were on the Northern Beaches of Sydney which lost 20.1% over the year.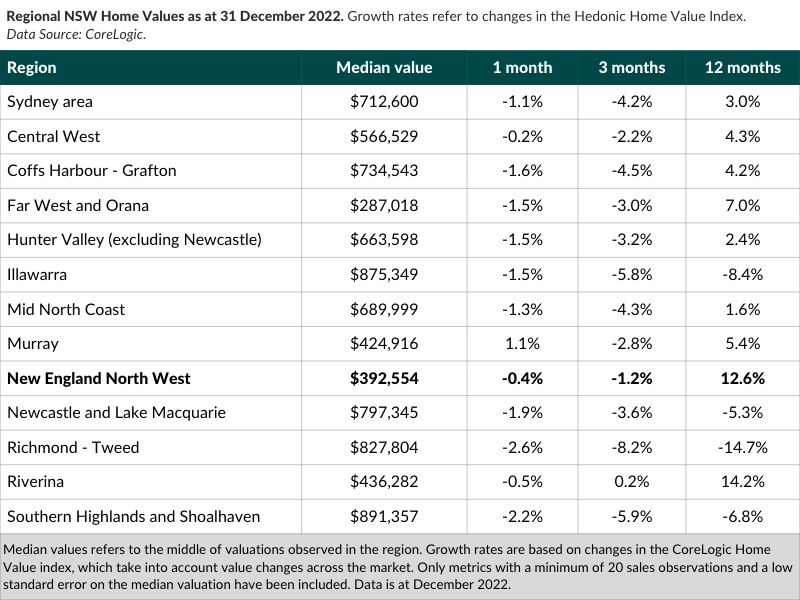 The growth rate in the New England North West was reasonably well spread throughout the region. Properties in and around Armidale increased in value by 12.1% to a median value of $460,570; Tamworth and Gunnedah increased 13% to a median value of $403,703; while properties in the Northern New England area around Inverell, Glen Innes and Tenterfield recorded an impressive 16.6% increase in value to a median $329,547.
The annual growth figure may have been even higher, but the property market softened slightly, down 1.2%, in the December quarter. Only the southern part of the region was still increasing in value in December.
Prominent local Real Estate Agent Kyle Garrahy from Professionals Armidale said these figures are extremely reflective of his experience of how the local market has been performing. 
"The property market has definitely reached a peak in Armidale and now we could be on the way down." 
"My general advice to owners at the moment is that your house has reached peak value for this property cycle and it will be worth more today than it Is tomorrow."
Mr Garrahy said it is unusual for the market to soften in the December quarter.
"Normally this is peak selling season, however an influx of listings hitting the market along with many buyers pulling out of the market could have resulted in the supply and demand falling back in the hands of the buyers."
"I would forecast a slight market correction in 2023, but nothing massive."
The huge growth in regional property values has been largely attributed to Covid-19 and the dramatic expansion in remote work, making relocation of out of the cities a possibility for many. The overall NSW regional figure declined 2.7% over the year, but this is misleading: the only regional areas that experienced negative growth were the Sydney fringes of Newcastle, Illawarra and the Southern Highlands, and the understandable crash of the flood ravaged Richmond-Tweed are which fell 14.7%. All rural areas went up.
"Last year was the most growth we had seen in the last 20 years and it was caused by a black swan event," Mr Garrahy said.
"So if you want a premium result, sell today and not tomorrow," Mr Garrahy said.
---
Have something to say about this story? Submit your own opinion piece, or quick word, to The Net.